This month, we're highlighting Sarens' presence in the Southern Africa region, which includes full-time operations in South Africa and Namibia, as well as project work in Mozambique, Botswana, Tanzania, Zambia, and Kenya.
The Group primarily serves this region's petrochemical, mining, construction/infrastructure, and energy/power industries. Offering more than just crane rental, Sarens in South Africa applies a solution-driven sales approach, mixing and matching its local fleet with resources required to perform client projects. The Group's services in the region include:
Day-to-day and long-term crane rental.  Sarens' fleet of 71 cranes includes 100T to 1250T crawler cranes, 20T to 650T all-terrain cranes, and 124-axle SPMTs.
Transport (on-site and heavy haulage)
Alternative lifting
Jacking, skidding, and sliding
Rigging
Projects and engineering solutions
Finding success in Southern Africa
Sarens in South Africa has plenty to be proud of, including:
Assisting Debswana (De Beers Botswana) with moving a fully assembled 550T Komatsu PC5500 shovel between mines. Debswana typically disassembles the shovel and reassembles it at the new location, which can take up to two months. Sarens helped them complete the 35km move in just five days, keeping Debswana on track to hit their annual mining target.
Removing an old fully assembled 800T dryer at Sappi Ngodwana Mill and installing a fully assembled 600T dryer in its place.
Transporting and installing 300T modular sections for the Sasol Coal Tar Filtration East project, using Sarens SPMTs and the CC8800, which may be the largest crane ever to operate on the continent.
Lifting a British Airways Boeing 737-800 above a major freeway.
Completing a number of projects in 2016, including operations at Sasol Coal Tar Filtration East plant, ship-to-shore container handling in the Port of Durban, and work at a diamond tailings reclamation plant in Botswana as well as the Tsumeb smelter and the Husan Uranium Project in Namibia.
Planning for market opportunities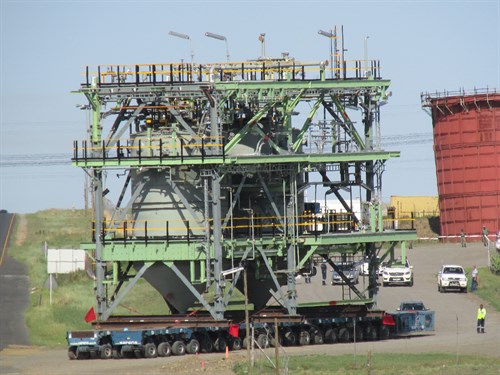 Sarens is always looking for opportunities to grow in regions where it operates. Marius Cilliers, Country Manager for Sarens in South Africa, points out the region's biggest growth opportunities:
Nuclear Power.South Africa is set to embark on a nuclear power plant programme within the next 5-7 years, which should result in multiple projects that require skilled and experienced contractors like Sarens.
Local content.Sarens sees lucrative state-driven maintenance contracts in the future, especially for petrochemical, oil and gas, mining, energy/power, and port and rail assets and entities.
Renewable energy (wind and solar).Renewable energy projects are currently on hold until state-owned companies and project owners agree on improved power purchase agreements (PPAs). However, once this happens, the market is projected to grow through 2025 or 2030.
As Cilliers notes, at the moment, "the market is in a calmer period, with projects such as Medupi and Kusile entering their later cycles. Meanwhile, Namibia's depressed economic market has resulted in the delay of approved gas to power projects until foreign capital can be secured. Mineral and metals segments are counting on improved markets to encourage growth within this segment, and this is affecting markets in South Africa, Namibia, and other parts of Southern Africa."
Nonetheless, in the short-term, Sarens in South Africa is looking forward to multiple maintenance contracts with Sasol in 2017, as well as bridge projects that kick off in the second quarter of the year.
Overcoming challenges
Cilliers points to three major challenges of operating in this market: keeping the fleet maintained and in good operating condition, finding skilled technicians who can maintain later-generation equipment, and competing with local operators, who are given priority over foreign-owned entities like Sarens.
Still, says Cilliers, "We know in our attempts to develop and grow our Business Unit there will be failures. Without these failures, there would be no learning, nor any gratitude or appreciation for when we do succeed. The answer lies in how we view our failures, what learn from them, and how we apply that learning to ensure we succeed in the future."
Giving back to the community
Sarens in South Africa is involved with local initiatives, including the Sarens Edenvale Marathon, which supports disadvantaged and disabled children. The Group also sponsors education and school improvement programmes in disadvantaged communities.