Sarens constructs proton therapy centre for IBA
Sarens obtains first order for IBA on European mainland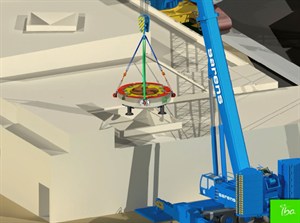 In the past Sarens has already executed similar projects through its US subsidiary Rigging International for Belgian based specialist in medical high technology IBA (http://www.iba-worldwide.com/). This time Sarens will execute the first type of this project on the European mainland.
The proton therapy centre will be constructed in Trento, Italy and will be used for the treatment of cancer. Proton therapy, in which IBA is the world leader, enables patients to be treated for cancer with a more precise dose in the tumor, fewer side effects and better results. For this purpose protons are fired off and only release their energy where the tumor is located.
The project will entail among other things the lifting of a 220 tons cyclotron and will take 18 weeks. Furthermore Sarens will be responsible for the mechanical installation as well as the wiring of the electrical part of the installation.

For Sarens this project fits into their strategy of continuous growth and exploring new markets. Together with IBA Sarens is looking forward to a bright future in these type of projects. The project will create extra job opportunities both in the local market as well as in its Belgian headquarters for technical educated staff. Sarens has over 50 vacancies worldwide for similar profiles.