Awards
IC50 Cranes Certificate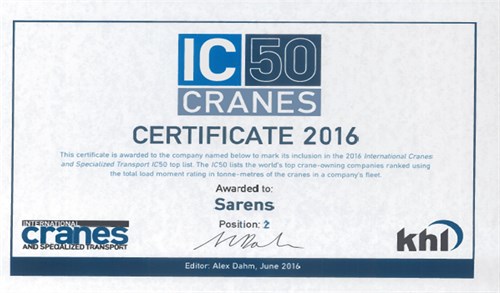 Safety certificate on SABUCO - Butanol & Syngas Project, Saudi Arabia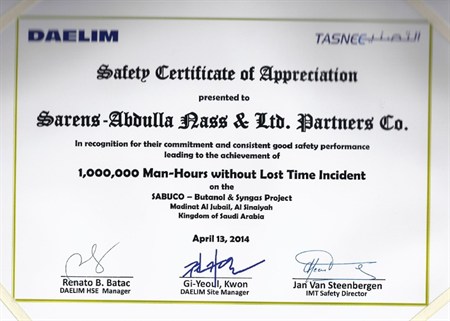 TDI Complex Project

MMHE Recognition Award for Sarens Malaysia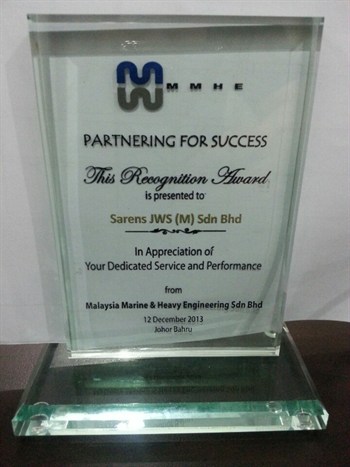 CNRL Kirby Safety Award

Koniambo award

SC&RA Hauling job of the year
Trends Gazellen 2013
Lion Award
IC 50 International Cranes 2011

ESTA Award 2010 Crane job of the year (telescopic cranes)
Sarens Nederland won this award for the lifting of columns and vessels at the Abengoa bio-ethanol refinery in Rotterdam (NL). A vessel of 92t was lifted using 2 cranes, while a third crane (250t) was used for the tailing operation
Equipment used : AC 700 HaSSL, AC 500-2 HaSSL, and LTM 1250-1.
ESTA Award 2010 Combined Techniques Award
Sarens Nederland won the award for the transport and installation of a bridge over the railway in Houten (NL). The bridge (120 t, 56 x 12 x 8 m) was transported over water, driven on shore, transported over land over public road for 10 km, and lifted into place. Railroad blocking times were very limited and due to precise combined project planning they were respected.
Equipment used was AC 700 HaSSL, AC 500-2 HaSSL, 2 x LTM 1100-2, 13 axle lines SPMT, and a barge.
ESTA Awards 2010 SPMT Job of the Year entry by Sarens nv
On the 22nd of April the ESTA Awards 2010 were revealed in Munich.
Sarens nv won the award for the load out of an oil rig in Stord, Norway.
Total weight : over 15.000t which equals 83 empty 747 jumbo jets. The module (90 x 90 m) had to be moved diagonally, afterwards another 90° turn on the spot, and is positioned with an accuracy of 2 mm with regard to the other modules.
Equipment used : 534 axle lines SPMT, 22 Power Packs (> 8.000 HP)
IC50 International Cranes 2010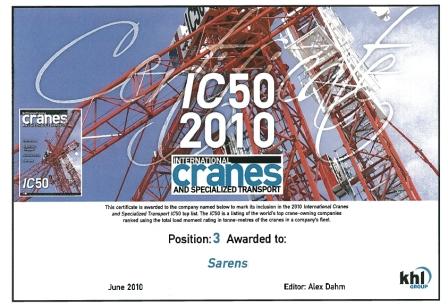 IC Transport 50 2010
Goro Nickel Safety Award