Sarens Training Center: Introduction of ECOL Courses
Inaugurated in 2017, Sarens' ECOL Training Centre is located at HQ in Wolvertem, Belgium. The Centre trained 188 employees in 2020, despite being inactive for about five months due to the Covid-19 pandemic. All operators at the Centre are taught by Sarens' experienced in-house trainer, Wim Scheers, who has been with Sarens since 2007.
The primary aim of the Centre is to train our own employees, so we have an eye over what and how they are taught. Doing this internally gives us complete control over these factors, and is also the perfect opportunity to instill Sarens standards and values.
While other training centres might focus only on complying with imposed terms, we always set higher standards for our trainees. We do this by combining the imposed terms with our assessment of what the person who holds this license or certificate should be able to do within a Sarens Heavy Lifitng context. I think this distinguishes us from external training centres. In the end, our goal is to provide the highest-quality training, created by and for Sarens employees.
Sarens is shining the spotlight on our Training Center and the addition of ECOL to our course list. We have the first center in Belgium and the fourth worldwide, that will give ECOL courses.
In the heavy lifting industry, ECOL stands for European Crane Operator License, and is the result of an ESTA initiative to investigate how a European craft proficiency certificate for crane operators can be established for the industry.
The ECOL license is especially valuable for operators working on European projects, and is valid in Belgium and across Europe. All operators, regardless of country of origin, can be ECOL certified. Next to the previous, ECOL is crucial, because currently, each European member state has its own rules for the professional competence and certification of crane operators. The rules range from compulsory to optional and even to no rules at all. These differences can lead to confusion, negatively impact safety, and also prevent the mobility of crane operators across Europe.
However, ECOL enables every crane operator in Europe to demonstrate that he or she meets the minimum requirements for the industry, and to exercise his or her profession in any European member state without having to attend multiple retraining or examination sessions. Furthermore, ECOL allows every employer to assess the qualifications and experience of any operator applying for a position, and enables every site or plant manager to check the qualifications and experience of any crane operator entering the construction site or plant.
Next to ECOL training, trainees can take many different courses at our Centre. We aim to provide the perfect balance between theoretical and applied knowledge, including practical experience. Our overall courses menu includes:
ECOL - European Crane Operator License
Load securing
AV006 Working with personal fall protection
AV013 Working with a mobile crane
IS001 Forklift
IS005 Aerial working platform
IS006 Rigging and slinging of critical loads
IS011 Overhead crane
IS031 Rotating telehandler
IS032 Rotating telehandler with hoisting function
We think it's important not only to make note of our courses that provide a certification. Being an internal training centre allows us to be quite flexible on the one hand and provides us with a lot of inhouse practical knowledge.. We want to take advantage of this internal knowledge and flexibility. We do this by providing tailor-made trainings when we receive a certain question or demand. Last year for example, we trained the planners from Sarens BE, to provide a more technical background that they can use whilst planning. Overall, our training is mostly operations-oriented.
Primarily, we only train our own employees for now. External trainees may be allowed with exceptions, but they should meet certain requirements. As our training centre is still growing, we certainly do not exclude the possibility of training external people in the future. Our focus for now, however, is training for Sarens people.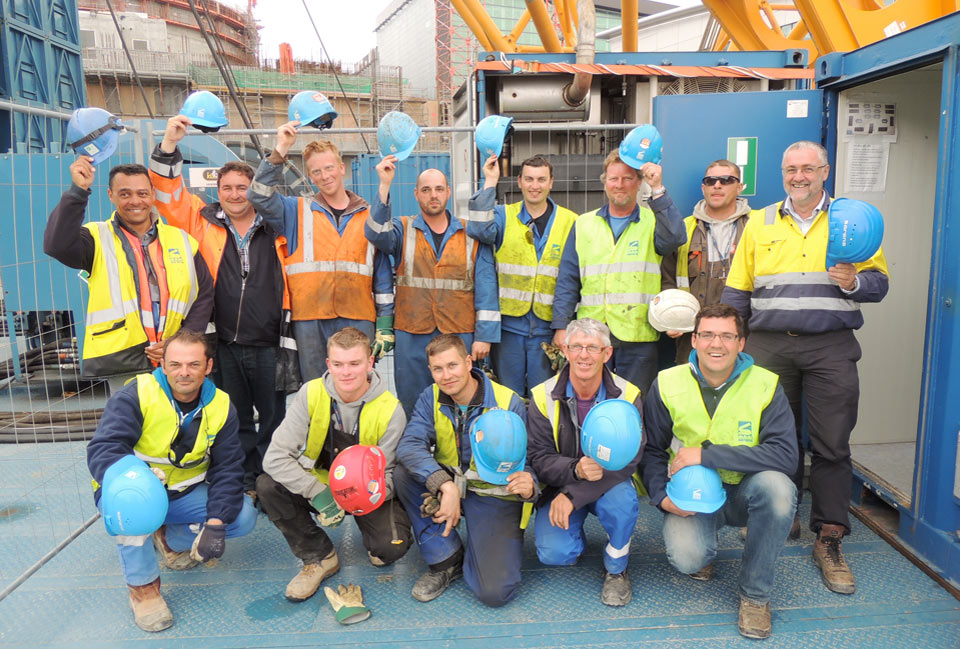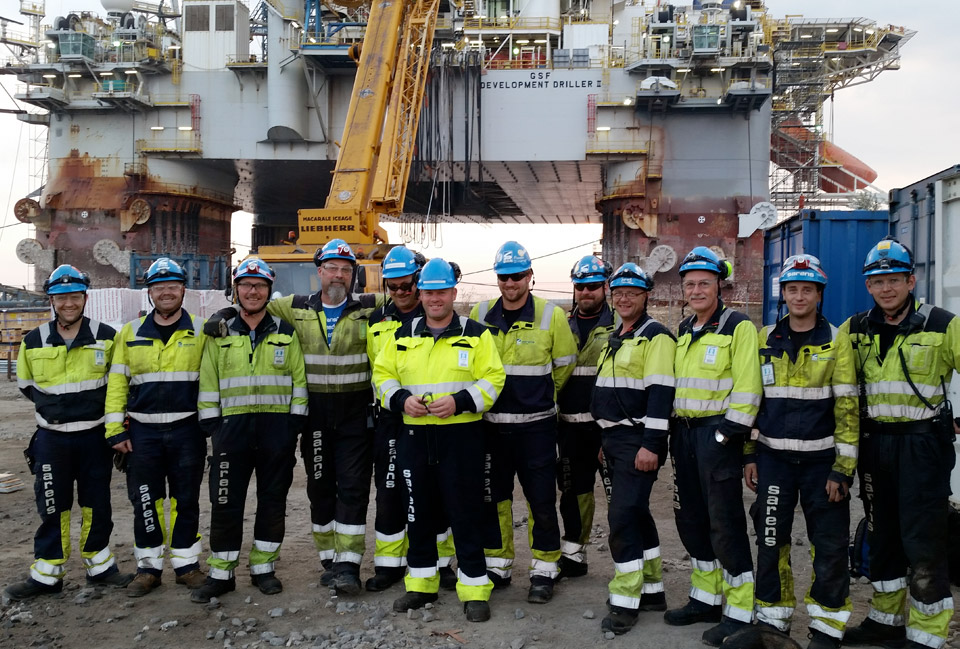 Comokra
In 2004, Sarens replaced the initial by a second training centre "Comokra" in Steenhuffel, Belgium in close cooperation with VZW Montage and VDAB.
Different courses can be followed throughout the year (e.g. crane operators, riggers, forklift operators, and others), both for unemployed people as well as for employees. The Comokra training centre has several mobile cranes, telehandlers, telescopic work platforms, and other equipment and material available. More information can be found on the website www.comokra.be (in Dutch) or on +32 52 315 315.
Sarens in the UK
Since 2008, Sarens UK Ltd has had a CITB/CPCS (Construction Industry Training Board/Construction Plant Competence Scheme) approved and accredited training centre, providing:
A wide range of machine categories for training and testing
Industry NVQs (National Vocational Qualification) at level 2, 3 and 6 for progression in the scheme
CCNSG (Client Contractor National Safety Group) Safety Passport Courses
CPC (Certificate of Professional Competence) Courses for HGV/LGV drivers
CSCS (Construction Skills Certification Scheme) Health & Safety tests a variety of other industry training to meet your health and safety requirements
Both Sarens in the UK and Comokra's dedicated training teams have the benefit of many years in the industry and training experience as well as a friendly, professional approach that allows an enjoyable and productive learning environment.
Project Trainings
Next to these training centers, Sarens also gives project-relatedtrainings, looking for local special operators who get trained at the Sarens standard. Sarens regularly conducts project related tranings across the projects we undertake worldwide.
In-House Trainings
here are numerous and regularly organised trainings given to Sarens employees, constantly developing them to developed into high qualified workforce operating our complex machine park to execute safely projects all over the world. We also provide training and sponsor continued education for high-performing employees.