Sarens in the USA: A Major Petrochemical Project and a Positive Rental Outlook
Sarens supports a major US-based project and looks forward to the future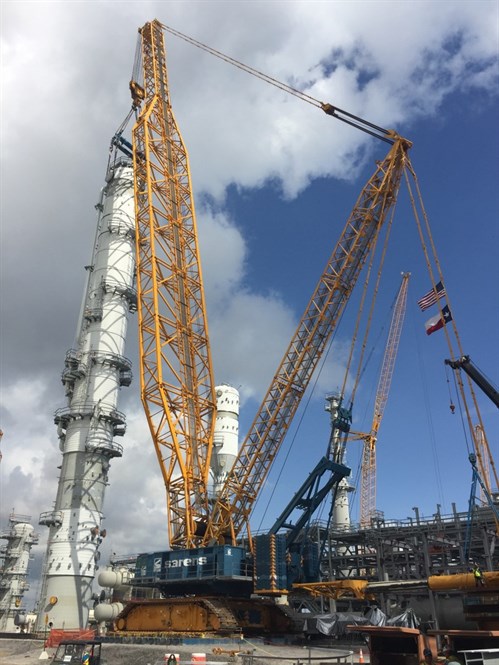 During one of the most powerful hurricane seasons on record, Sarens was hard at work in the USA, executing a heavy lift and transport project at the Lotte Chemical and LACC petrochemical plant in Louisiana.
Sarens' role in the operation included six months of ongoing project work for client CB&I, transporting and lifting major plant components like a 721-tonne, 75-metre long ethylene fractionator. Sarens was responsible for offloading equipment from ship to barge, transferring it to a staging area for pre-dressing, transporting it into lift position, and setting it on its foundation.
For this, the crew used the following equipment:
CC 8800
CC 2800
LR1350S
RT 9130
RTC8090
48 axle-lines K24
This operation brought its own set of challenges, including hurricane-related weather. Although Hurricane Harvey did not have a direct impact on the job site, relentless rains turned it into a swamp and forced a three-day closure. The heavy rain and lightning also slowed lifting operations and installation planning: each time lightning hit within a 5-mile radius, the whole site would have to be shut down. Two cranes were even hit by lightning!
Other challenges included tight working areas, adjacent construction work, the need to coordinate with other construction trades, and tightly engineered corners that impacted transport from the staging to the lifting position. Because of conditions in Louisiana, the team had to plan for limited ground bearing capacity. This required a significant amount of ground preparation and matting, something Sarens supported the client in during the engineering phase.
In addition to onsite project work, Sarens is also renting the following equipment for up to one year:
2x LR1350S
LR-1300 SX
SCX 2800
RT160
12L Goldhofer
Most of the equipment had already been in use along the US Gulf Coast and was brought to the job site by road over a period of 2-3 months.
Sarens looks forward to more of these projects in the future, including upcoming crane rental work for the Corpus Christ Harbor Bridge project, which may last up to two years.
Here's what Guus Stigter, Key Account Director, USA says about the current US rental market, top trends, and its future outlook.
Tell us about Sarens' presence in the US crane rental business.
Sarens USA's crane rental business has been increasing every year since we acquired Rigging International almost 10 years ago. Our current locally-operated fleet ranges from 55t up to 160t telescopic RT cranes and 200-300t crawler cranes up to the 1.600t CC8800-1 crane with BB assembly. This year, we also added self-propeller trailer rentals. Additionally, a JV partnership to boost our business in the Northwest has been operational for a year. It is an important pillar next to the nuclear services and project work we offer to the US market.
Which trends do you see in the market, what is driving growth, and how is Sarens responding to these opportunities?
We are seeing the following trends:
Increased infrastructure projects are providing demand for crane rental.
A lull in the refining market has put pressure on crane rental rates.
Clients demand 24-hour service on major crane maintenance and repairs.
Larger project work also regularly triggers an increase in rental business. After the major equipment is installed the work is not finished for most of our clients.
The main drivers of growth include:
Infrastructure projects, in particular large bridge replacement projects
New sports stadium construction
Greenfield chemical projects
LNG export terminals
Gas-fueled power plants
We should be able to grow this business at double-digit rates annually, as there is still a lot of market share to gain. We are just scratching the surface here in the US, and there is tremendous potential for growth. The key is to aim for controlled growth, building up the organization with local personnel who understand the market and the customs here. We have proven in other parts of the world that Sarens can be successful in that way.
How does Sarens create value for clients in the US?
The factors helping us become a reference in the US market include:
Availability and access to a versatile and well-maintained fleet of modern cranes, at competitive pricing.
Our ability to listen to client needs and offer equipment, services, and solutions fit-for-purpose.
A flat organization with hands-on ownership that provides for quick decision-making and responses.
We ensure high levels of customer satisfaction through regular feedback, continuous improvement, and our zeal for excellence. When it comes to clients, the best thing to do is to have open and honest conversations. I've done the same in my own marriage for over 20 years now, and it works!
How do you ensure safety during rental projects?
We do a few things to prioritize safety:
We always require the client to provide competent and certified operators. We also provide the necessary training, as needed, when anything is unclear.
We regularly check with the client to see if they need any operational support, which they often appreciate.
Now that we can do a lot more remotely, we monitor crane status and activities. All cranes have a black box fitted in them, and LMB override notifications come in by email.