Sarens Participated in the ASEAN Wind Energy Conference 2019
To further strengthen our client relations in the wind sector in Vietnam, Sarens participated in the ASEAN Wind Energy Conference 2019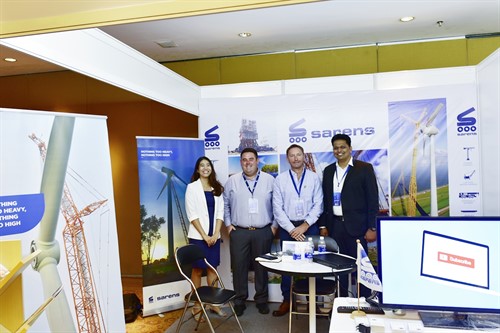 April 2019: ASEAN Wind Energy Conference is a large-scale business platform for Southeast Asia that covers the wind sectors in Vietnam, Philippines, Thailand, and Indonesia.
The two-day (April 1-2) conference was attended by more than 800 vietnamese and international participants including 70 speakers, 20 consulting companies, developers, investors, government officials, and other third party associates.
The "ASEAN Wind Energy 2019" conference was a great opportunity to network, connect directly and promote cooperation in the industry. Vietnam's wind power capacity targets are: 800 MW in 2020; 2000 MW in 2025; and 6000MW in 2030. The wind energy potential in Vietnam is high and the market is promising for investors.
Steven Coulson, Regional Operations Manager, APAC and Africa adds, "Sarens has been performing some interesting and challenging wind projects in Vietnam in the past and it was a great experience exhibiting at the conference. We got an opportunity to leverage the growth potential of the market by meeting clients and understanding their needs which are dynamic and ever evolving."