Testimonials
Words of thanks from Fluor
It was a pleasure working with Sarens in Batangas and I really appreciate all the hard work that you and your team from Sarens put in to get these modules loaded out safely and as quickly as possible. Thanks again and I look forward to working with you in the future!

Best Regards,

Phillip Brown, Logistics, Fluor


Thank you Letter DanTysk
Ulsan Project, Korea
Thanks again for your support and professionalism during the load-out operation. Please transmit my grateful thanks and congratulations to all your teams. I hope all of you took as much as pleasure as I did.
Looking forward for another adventure together.
Technip
Sarens' positive attitude towards health and safety

Appreciation letter from Alstom
Thank you letter from Sytral for pont Raymond Barre in France

Letter of thanks for Coal Export Terminal from Aurecon Hatch and NCIG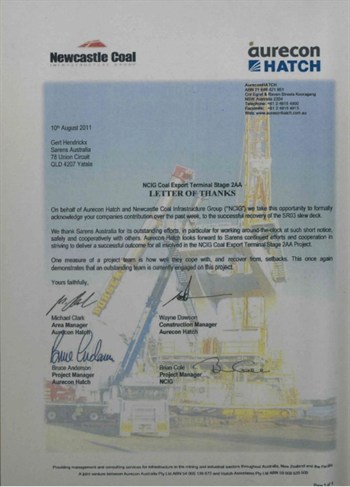 Lifting of Bypass Stack complete
Dear SARENS
All lifting of bypass stack was completed on 6/5! We have to say Thank you for your best work and help.
The first lifting started from 3/22 with lower part of diverter damper #2. For 2.5 months, we have had many memories between DAELIM and SARENS. We are happy to have been through first package of lifting and end up successfully.
Good partnership has been built through the lifting for 2.5months and we hope this relationship will keep going on for HRSG and other combined items.
We appreciate your grateful support.
Nowadays temperature on site is going above 50 Celsius degree.
Take Care of your health and body condition.
Thank you for all your greatest cooperation.
Best Regards
Daelim
Meerwind Topside Project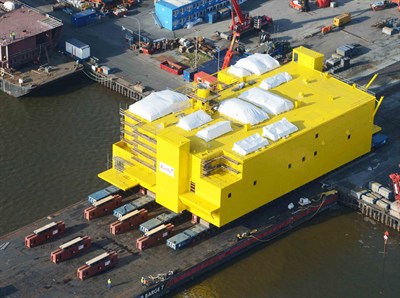 nach der erfolgreichen Verladung der Topside (Verladungsgewicht ca. 1.680 t) mittels Flurförderfahrzeugen (4 Linien je 40 Achsen der Firma SARENS / Belgien) möchten wir uns - auch im Namen der Geschäftsführung und der Projektleitung der WeserWind GmbH Offshore Construction Georgsmarienhütte - bei allen unmittelbar Beteiligten, die uns bei der Vorbereitung dieser nicht alltäglichen Herausforderung konstruktiv unterstützt haben, herzlich bedanken.
Mögen Ihnen die von Wolfhard Scheer aufgenommenen "Schnappschüsse", die uns von der Geschäftsführung WeserWind zur Verfügung gestellt wurden, einen "bleibenden" Eindruck von der Verladung vermitteln.
Wenn wir auch die nächsten Herausforderungen der Offshore-Windenergiebranche in einer so guten Atmosphäre der Zusammenarbeit meistern, wird das dazu beitragen, den Ruf Bremerhavens als soliden Standort der Offshore-Windenergiebranche weiter zu festigen.
IMS Nord
Namens de werfleiding Krijgslaan willen wij iedereen zeer hartelijk bedanken voor de grote inzet!!! Bloed, zweet en tranen hebben ze gekost, maar de bruggen liggen er. Dankzij de goede voorbereiding en samenwerking van alle partijen hebben we een prestatie neergezet die gezien mag worden. Iedereen mag dan ook oprecht fier zijn. De renovatiefase kan nu aanvangen wat deze eeuwling terug zal doen pronken zoals voordien.
De werfleiding Oktober 2012
Panama canal
Luciano has done a very good job on site and has shown a very professional attitude. It has been a pleasure having him on the job.

Regards,
Project Manager
Sandvik
The first truck ramp has been successfully installed this morning. Congratulations to Andrew Beare and his crew for a well-planned and smooth operation, and to Mauricio Otero for the initial planning and lead up works to reach this stage.
Kind Regards
Project Manager Cimeco
To All,
Thanks to cascade my congratulation to your Teams for this safe lifting and installation of the Incinerator Stack on the GF. We must thanks all of the participants working on it from day one to achieve safely and on time this work. It was a real team effort and each one was participating to make it happen.
People Motivating People : was the key, with the enthusiasm of all.
PMP (Plateau Maintenance Project) - Construction Manager - Green Field
Technip Chiyoda Joint Venture

We want to thank you for your very good support during the tests and particularly for the fast responses to our short -termed requests. In addition to that, we want to mention the excellent communication with the crane drivers and their flexibility. We are very pleased with the smooth operation of SARENS in preparation and on site.
Regards,
AREVA Wind GmbH
Projektmanagement
Successfull completion of heavy rigging work for Samsung in Skikda


Loading of last pile in Rostock
Dear all,
Today at 11.45 we finally loaded the last pile in Rostock. Please see attached pictures. Thanks to everybody that has participated in making this possibly.
Thank you very much for good cooperation on this project - We could not have done it without you.
Venlig hilsen / Best regards
Per Aarsleff A/S
Sucessful installation of column in Qatar
Dear All,
This 15th of February 2012 has been safely installed the 04 C 0202 MDEA Regenerator ( + 50 meters , ~300 tons at El: +6000).
I thank all of you for your involvement during the preparation and this critical lift , and I thank also your team for this safe achievement.
This is the result of a great Team work, thanks to continue with the same spirit to make this project a complete success.
Best regards,

PMP (Plateau Maintenance Project) - Construction Manager - Green Field
Technip Chiyoda Joint Venture
"This success is yours": successful installation in Doha

Dear All,

This 1st of February 2012 has been safely installed the Absorber 04 C 0201

(1022 tons).I thanks all of you for your work , your cooperation during the preparation and the lift,

and I thanks also your team for this safe achievement.

This success is yours.

Best regards.

PMP (Plateau Maintenance Project)
Technip Chiyoda Joint Venture

KBR attestation letter

Crane familiarisation training in Tasmania

Felicitación proyecto Estela de Luz
Sarens heavy Lifts at Mobil Refinery - Complete
Hi Andrew,
This is just a quick email to thank you and the Sarens Team, for the work performed prior to and during the current Refinery shutdown.From what I observed and the feedback I received, the Sarens Team integrated well with the site. I was extremely pleased to see all five (5) heavy lifts performed successfully without incidents. Once again thank you very much.
Regards

Mobil CME Alliance Project Manager
Mobil Altona Refinery
Crane operations in Australia
Afternoon Matt,
On Wednesday 31st crane operations were carried out at PL2 & 3 (Clarence Beach Rd) and PL4 (Cnr Wattleup & Moylan Rd). It is with deep satisfaction that I report the safe and professional manner that the Perth Crane Hire operatives carried out these lifts.
As you are aware the Gorgon Project prides itself on doing it safely or not at all and getting it right first time. These tenets were clearly in evidence this week. The conduct of your staff enabled Agility to carry out 18 lifts between 09.30 and 16.00 at PL2 & 3 and a further 7 lifts in excess of 35t each at PL4.
I congratulate all your staff on this and look forward to the continued team effort. Well done!
PSB Deputy Ops Manager Gorgon Project
Agility Project Logistics
250,000 hours without Lost Time Injury at the Koniambo project!

A letter of thanks to Sarens for all the assistance provided in the recovery of the slew deck

Satisfactory recovering operation
Gert,

Could you please pass on a big thank you to everyone that was involved in getting the lift to the stage of actually happening. Everyone showed true professionalism in every aspect leading up to and during the lift. A special thanks to Dirk, he really knows his cranes and the passion that he has for them. And of course, big Scotty the stick puller. ;-)
Best Regards
Sandvik Mining and Construction Australia
Compliments from Vestas
Good Morning Gert,
Firstly, I would like to thank you and your team for doing a fantastic job in Collgar and we look forward to your continuous support.
Moving forward, we are looking for companies who are able to provide Vestas with a one stop solution in terms of lifting and erection of the wind turbines and we believe Sarens have those capabilities.
Yours sincerely,
Supply Chain Management / Asia Pacific
Vestas Asia Pacific Wind Technology Pte. Ltd.
Congratulations for the SGC-120 loading test
Dear Sirs,

LVP CRANES SPAIN S.L. congratulates SARENS GROUP for the successful loading test made by your SGC 120 SUPER HEAVY LIFT CRANE.

You are the best indeed!! Big family - Big cranes - Big projects.

Kind regards,

LVP CRANES SPAIN
Sarens Nass & Saudi Aramco
Dear Mr. Ludo,
I hope you receive this e-mail with good health. It is my pleasure to congratulate you for Sarens Nass approval with Saudi Aramco Company. Hoping for you and the group very great and successful business in Saudi Market in general.
Kindest regards
Vestas Collgar Windfarm, Australia
Hi James and Gert,
I'm sure the guys at site have done a little celebrating already but I thought I would say thanks from the Vestas team for your assistance in installing all 111 turbines. From the office it appears to have all gone very smoothly but I am well aware that plenty of challenges were overcome in order to get this done.
Thanks again.
Yours sincerely,
Vestas Australian Wind Technology P/L
Word of gratitude from BMA Coal
Good Morning Gert,
Just want to thank Hannes, yourself and Sarens for an excellent piece of work. Everyone is very happy with the report.
Quite confident that it will lead to bigger things
Regards,
BMA Coal
Proud member of the Sarens Australia team
Hello,
I am writing this letter to express much appreciation of the help, expertise and sound knowledge that one of your field technichians/trainers/operators Hasko-presently in Dubai provided to me. Located on a project in Newcastle, Australia both myself and the head mechanic were experiencing a few problem solving issues in the erection of a LR1350. The Sarens-technician(HASKO) was able to answer all of our questions and provide extra vital information for a safe and efficient crane erection and operation. I think he is valued member of the Sarens operations and would be of massive benefit to Sarens Australia as a mentor/supervisor to Mechanics, Operators and Riggers. I also would like to thank Fred Kloek and Karel Storm for their training and expertise on the Collgar windfarm project, They also displayed the same professionalism and adaptability to our culture and I would have no problem in working for them again. I am a proud member of the the Sarens Australia team and believe that we move will foward to be market leader in the crane industry in this country.
Yours sincerely,
Adam O`Brien
Crane Operator
Roye: E17 erection in one day
Hi Pieter,
I just want to pass onto you this e-mail sent to us by the Site Manager at one of our site in France. It is good to know that the Sarens/Powermetal teamwork is appreciated by the client. Hopefully we will be able to show this teamwork to other clients soon. Have a great weekend and see you on Thursday.
Project Manager
Powermetal
Hi Guys,
I would like to congratulate you and your teams for E17 erection ! You succeeded in 12h to erect a 4 sections WTG, with crane using superlift. I would like to let you know that Vestas is really impressed by this performance. We noticed on site a high motivation for all persons, and a really good collaboration between Powermetal and Sarens, and this is very good seeing backward all problems and difficulties met.
Hoping that we will all keep the same spirit on site for the very last turbine, and why not, erect the last WTG within one day again?
Again thank you all for all your efforts.
Yours sincerely / Sincères salutations
Site Manager
Installation
Vestas Mediterranean
Good and safe execution
Appreciation from SK
Letter of gratitude
Dear Sirs,
With this letter, I would like to inform you of the end of my contract with Eurogruas.
In this point, I wish to thank you, Customers, Suppliers, Partners, Eurogruas Staff and friends, for the support and confidence that I have received during these 5 years as Market Director for Eurogruas.
It has been a period full of shared success, plenty of passion for well done teamwork, full of efforts rewarded for customer satisfaction. A period of a common philosophy of Commitment.
Therefore, thank you all.
Sincerely yours,
Manuel Mateo Guisado
E-mail from Aarsleff
Hi Sven,
We now feel confident in the crane operations in Aalborg.
We would like to use this opportunity to say thanks for good a professional service.
Venlig hilsen/Best regards,
Aarsleff
E-mail from Mammoet
Hi Sven,
Thank you for your good job reconfiguring the CC2800 in Ledvice.
Best regards,
Mammoet Europe
Paul van der Waal
Daewoo letter
New LNG Train Skikda Project
from: KBRII Kellogg Brown & Root Int'l Inc.
to: Sarens NV
Subject: New LNG Train Skikda Project / Skikda Project Safety Milestone
Dear Sir,
On behalf of Skikda Project Management I am pleased to announce that the Skikda New LNG Train Project Achieved 20 Million Work Hours without a lost time injury on 28 November 2010.
This is a significant team accomplishment with regards to a strong commitment to accomplish an incident and injury free environment for our employees. Many thanks to all employees, and all subcontractors for their contributions to this significant accomplishment.
Sincerely,
Deputy Project Director New LNG Train Skikda Project
Koniambo
Subject: Discharge module vessel 3
Top effort from everybody and very satisfying and pleasant performance from the SPMT crew who performed professionally and on time.
Operations at port and lay-down were executed and completed to everyone's satisfaction, efficiently and safely.
The vessel was released at 1pm today having taken 4 days 3 hours to discharge only, top job.
Best regards,
Module Manager New Caledonia / Equipe Koniambo Project
Vestas Duinkerken
Au revoir Sennebogen 5500!
Off site by 18.30hrs. Completed in one day. No rush, no accidents, no near miss, no HAZOB's - just well co-ordinated, well supervised and well executed. An example of 'how it should always be done'
Koniambo Award