Safety & Quality
Better safe than sorry
For Sarens, safety is paramount. We aim to provide a safe and healthy working environment for our employees, contractors and visitors. In fact, our goal is to have zero work accidents and incidents. Therefore, we're doing everything possible to prevent them from happening in the first place.
Improving our health and safety performance requires a consistent and holistic approach. We ensure that there is effective involvement and open communication on all health and safety matters at all levels in our organization.
We believe that working safely is the responsibility of every individual who works at our facilities or on customers' sites.
As there are operational hazards linked to our activities, we actively work to continuously improve our safety performance based on experience, feedback and lessons learned.
We identify, monitor and manage risks arising from our operations and have formal safety management systems externally certified to OHSAS18001 and SCC standards to ensure appropriate focus and integration of health and safety issues in our business.

Delivering high quality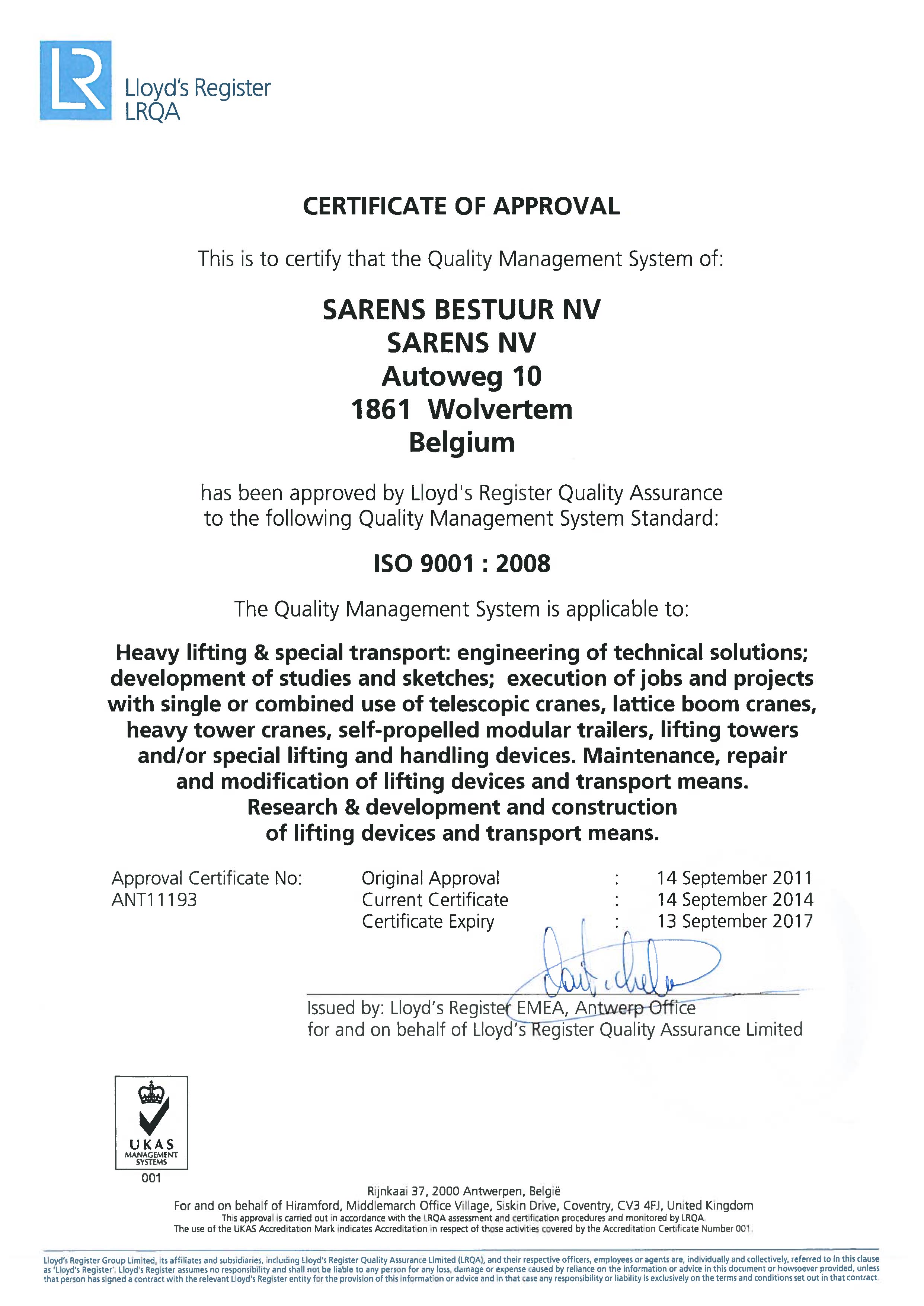 We at Sarens are committed to meeting our customers' expectations, as well as our obligations under every mandate entrusted to us.
A focus on quality underlies every decision, every cross-functional team, every service provision and every customer contact. We listen to the feedback that we get and respond to the best of our technical and managerial abilities. We are committed to complete customer satisfaction by continually improving our quality performance of services and processes. These improvement programs are based on the applicable requirements of ISO 9001 international standard for quality management systems.

Preserving the environment
As part of its commitment to being a good corporate citizen and community member, Sarens is committed to a set of environmental principles.
It is our policy to minimize the environmental impact that may be associated with any of our activities; we work constantly with our customers, contractors and suppliers to improve efficiency, conserve natural resources and reduce waste and emissions.